*Update: Whoaaa, this blog post is really old! Check out some more recent posts here. 
Mountain Equipment Co-op (MEC) sells kayaks and mountain climbing gear out of retail stores across Canada. The majority of MEC's 1500 employees spend their time stocking shelves, maintaining displays, working the registers and answering questions from their outdoor fanatic customers. With such a small portion of staff who sit in front of computers all day MEC is not exactly the poster child for a collaborative social intranet that makes knowledge sharing easy. And yet, after 18 months their social intranet, named Mondo, has taken on a huge role in the company's culture and has seen outstanding adoption.
If you like this blog, you'll love our newsletter
From workbooks and whitepapers, to blog content and best practices, our monthly newsletter is full of great content, advice, and expert insight.
Mondo breaks the adoption barrier: so long 90-9-1!
You're likely familiar with the common social software adoption ratio of 90-9-1: 1% of users are heavy contributors, 9% are intermittent contributors and the other 90% only lurk in the system. Well, that ratio doesn't mean much to MEC. Even though most of their employees don't have their own work computers, MEC has achieved a 70/20/10 ratio on Mondo. A full 30% of MEC employees contribute to content on their social intranet. That means basically one out of every three employees is an author on Mondo. That's the kind of adoption rate most intranet managers barely dare dream of.
So what's in MEC's intranet special sauce?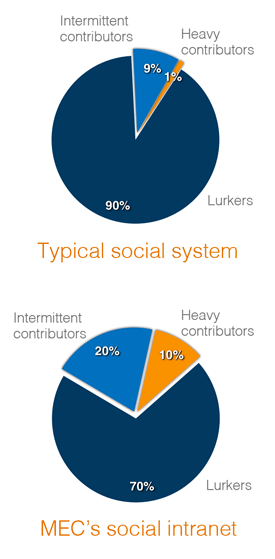 All employees can add content
The starting point for MEC's success with Mondo is the open nature of their social intranet. Any employee can add pages to the intranet, upload files, create groups and start discussions. MEC trusts employees to be responsible in what they create and has reaped the benefits of that trust. Employees have created all types of groups and can easily share information with colleagues from any location. Administrative staff in some offices have become über-users who create new solutions on Mondo for increasing efficiency and saving time, on their own.  But an open social intranet isn't the only key.
Adoption inflection point: Intranet access from home
Last fall, MEC made Mondo accessible from home over the internet. Starting at that point all employees could access the company's social intranet in the comfort of their own homes, as well as from shared kiosks in stores.
From company news to HR forms, MEC information became much more accessible for all employees. It was at this point when MEC saw Mondo adoption surge. Since they made Mondo available from home the percentage of staff who logged into the intranet each week grew steadily from 55% to 85%. Eighty five percent for a retail chain!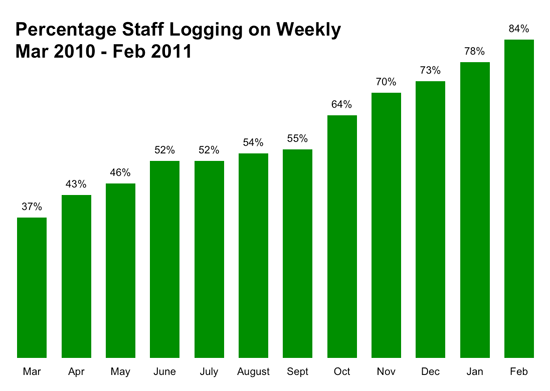 Migrated daily processes to the intranet
Access from home was only part of the strategy. Staff throughout MEC started shifting standard processes from email and paper to Mondo. For example, Dan Eagan, who worked in the operations group, created and embedded interactive forms on Mondo using Logiforms, a third-party open source tool. He created one form that allows any employee to initiate a stock replenishment request when inventory gets low. This new process was simple and fast and replaced a clunky process that took much longer. Not only was MEC able to save time and paper, but they empowered employees to use their daily knowledge to keep the shelves fully stocked.
MEC even moved staff shift scheduling for retail stores to the intranet so employees had to go to Mondo. Easy page editing and version control mean updating the shift schedules is a breeze and store staff can easily check their upcoming shifts from home.
Come for the social, stay for the work
The official tagline for Mondo is "work, play, connect." Few intranets so readily invite employees to engage in non-work related activities, but this has been an important part of MEC's social intranet success. Because MEC employees are explicitly allowed to engage in non work-related groups and discussions on Mondo they're more likely to spend time on the intranet. While they have a little fun on the intranet they more quickly become technically adept at creating pages, attaching files and starting groups. And while employees are on the intranet for social purposes they see company news, can search for HR information and can complete important tasks.
By creating an open social intranet and encouraging staff to engage socially, MEC created a speedy journey to high adoption. All of these features together made using Mondo easy, interesting and useful. Those three ingredients are all part of MEC's intranet special sauce.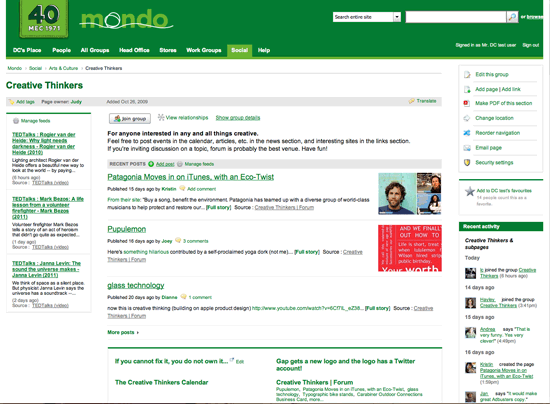 Selected ThougthFarmer for ease of use, low TCO & multilingual interface
MEC didn't select ThoughtFarmer social intranet software lightly. They conducted extensive user research to find out what their large employee base needed. They examined a range of options and chose ThoughtFarmer after an exhaustive comparison. In the end ThougthFarmer beat out SharePoint & Drupal due to its ease of use and because of the low total cost of ownership.
ThougthFarmer looks great and works well right out of the box and doesn't require on-staff developers. This, along with the availability of ThoughtFarmer's support team, meant MEC could maintain its lean IS function and still have a modern, social intranet. Additionally, MEC needed an intranet with multilingual functionality so both English and French-speaking staff could feel comfortable. ThoughtFarmer's seamless multilingual interfaces and easy multilingual publishing helped MEC make their final decision.
Have questions? Get in touch! We're always happy to hear from you.