*Update: Whoaaa, this blog post is really old! Check out some more recent posts here. 
If you like this blog, you'll love our newsletter
From workbooks and whitepapers, to blog content and best practices, our monthly newsletter is full of great content, advice, and expert insight.
Post-conference: Like finishing a marathon
The Social Intranet Summit in Vancouver (SISV) has quickly become a favorite time of year for the ThoughtFarmer team. We get to see our clients, some of our favorite colleagues in the industry (whom we happen to invite as speakers) and plenty of other great people interested in social intranets.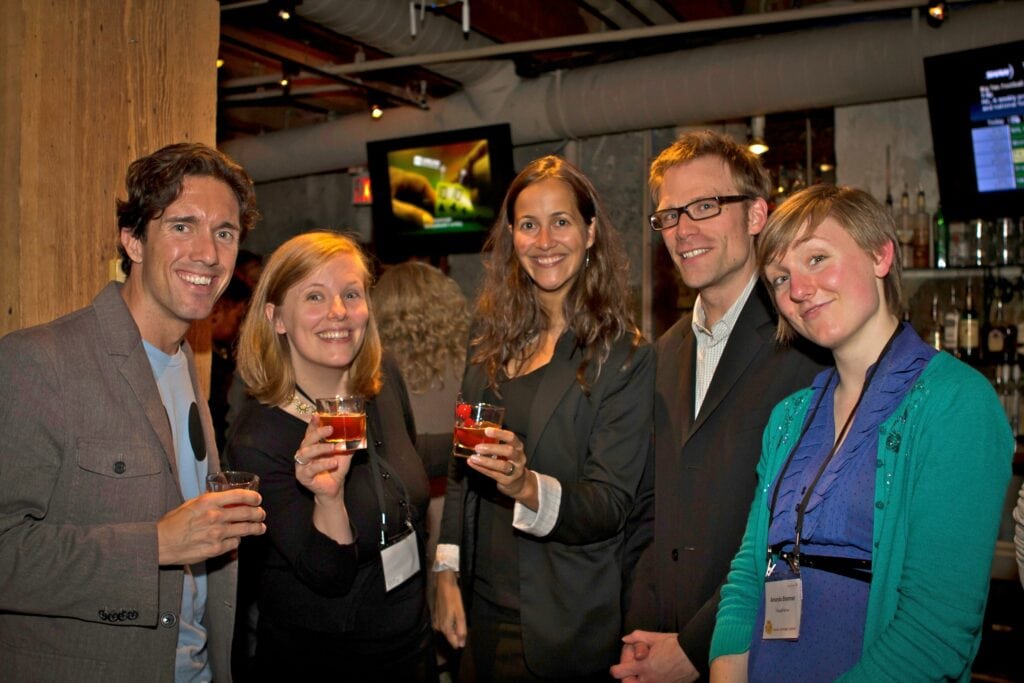 Things get a little hectic in our office, with long hours and mythic levels of multitasking. Gord's wife and baby even left town for a few days so he could freely work his crazy hours in the run-up to the summit.
We love the summit, but once it's done we take a huge collective sigh of relief. The presentations were great, people enjoyed the food and the after-hours networking was a blast. We bask in the glory of so many great insights, conversations and connections for about a day, then jump back into the fray of normal work and try to catch up on sleep.
We prepped and prepped and prepped and then the summit came and went. We're happy to have been pushed and challenged and are both relieved and sad now that it's over. If you didn't make it this year you missed a great event, but we'll try to make as much of it available as possible. For starters, check out the highlights below and keep your eyes peeled for upcoming SISV speaker webinars.  Don't forget to set aside budget to attend next year!
Balancing practice and theory
One of the challenges we most enjoy about SISV is putting together a captivating agenda that appeals to our full potential audience. The trick is to balance helpful practical presentations with those that provide deeper insights into the science, psychology and management theory linked to social intranets.
These all came together in a presentation from Deane Barker, who turned out to be the sleeper hit of the conference. Deane isn't as widely known as some of our other speakers, but his presentation struck the perfect balance and he left attendees with helpful, concrete tips.
Deane blogged about his experience as an SISV speaker (How to Make Conference Speakers Love You) and posted his presentation to SlideShare: What C-Level Execs Are Afraid Of When It Comes to Social Intranets
Melding science with inspiration
A key theme from this year's presentations was the growing body of evidence showing that building positive work environments and fostering employee engagement are good for business and good for employees.  Two of our presenters, Andy Jankowski and CV Harquail, explained the links between social intranets and employee engagement and have posted their presentations online: Why bring social media into your organization harquail sisv
Relive it through retweets
Our audience pounded away at their keyboards during the summit, capturing snippets of insight and wisdom from presentations. Here we've noted a few tweets that highlight key points and themes from SISV:
gadgetopia: OMG the Vancouver convention center is gorgeous... why would anyone listen to me with this outside?!? #SISV http://t.co/9guaBx1P 14 days ago
bryantrobertson: Let SMEs curate content in their expertise for other professionals in the organization @shelholtz #SISV 14 days ago
rhappe: Give people what they need to contribute fully - drives bottomless capacity for innovation - @cvharquail #SISV 14 days ago
misterbeebs: Loving the presentations at #sisv so far. Meaty and applicable with a great pace. 14 days ago
jacobm: RT @markfidelman: The views from Vancouver at #sisv are amazing http://t.co/xvYy5uty http://t.co/LNFSmCQp |good luck on your session! 14 days ago
misterbeebs: Watch out #yeg C-level execs. I'm coming back from #sisv with some knowledge on why you're afraid to get social thanks to Deane Barker 🙂 14 days ago
bryantrobertson: Build your mobile intranet for what people will actually do, not nec what they say they will do. @selmaz #SISV 14 days ago
lauramdavies: engaged employees 20% more productive & take half as many sick days. Intranet managers have huge influence over employee engagement #sisv 14 days ago
rhappe: "Do you want to make someone feel powerless (i.e. unhappy)? Take away their voice & ability to comment" @andyjankowski#SISV 14 days ago
bryantrobertson: Make Legal and IT your champions. Engage them, don't treat them as a hurdle. @RHappe #SISV 14 days ago
gordonr: Org culture - what's right, what's wrong. As @dgibbons likes to say, "Policies are organizational scar tissue." #SISV 14 days ago
janelleurchenko: GREAT tip: People remember the story. The metrics help them believe it. @rhappe #SISV 14 days ago
thoughtfarmer: Yes, it's an intranet in your pants. ThoughtFarmer 5.0, now mobile #SISV 14 days ago
see_eye_oh: Oxytocin and Social Intranets in the same session. @stoweboyd #SISV #whodathunkit 14 days ago
rhappe: Lack of friendly interaction in companies is strongly correlated with death - @stoweboyd #SISV 14 days ago
rhappe: The mobile app for @ThoughtFarmer is very nicely thought out - love seeing more innovation around mobile collaboration#SISV 13 days ago
gordonr: The true social intranet killer app: cute baby pictures in Halloween costumes. #SISV 13 days ago
rhappe: Panel is talking about welcoming/onboarding people to their Internet. Critical best practice in community management#SISV 13 days ago
rhappe: "It's not about age, it's about making it meaningful" re: social tool adoption inside the enterprise Carmen de Antoni, LifeMark#SISV #e20 13 days ago
As if you were there: Music, videos and photos
During breaks the ThoughtFarmer team played a hand-selected mix of energizing music and at the end of each break we played a fun video to lure folks back to their seats. You can find a list of the funny and stunning videos from summit breaks on the ThoughtFarmer website and listen to the soundtrack to SISV 2011, courtesy of Grooveshark:
SISV 2011 playlist, part 1
SISV 2011 playlist, part 2
SISV 2011 playlist, part 3
SISV 2011 playlist, part 4
On Flickr you can see photos from the summit.
Stay tuned to the ThoughtFarmer frequency to hear about upcoming webinars featuring speakers from the Social Intranet Summit.
A final word of thanks
On a personal note I'd like to thank all the speakers and attendees who joined us in beautiful Vancouver, and especially the wonderful ThoughtFarmer team. Without great speakers and engaged attendees there would be no summit and I'm lucky to work with the cool kids on the ThoughtFarmer team on a daily basis. Hope to see you next year!
Have questions? Get in touch! We're always happy to hear from you.