*Update: Whoaaa, this blog post is really old! Check out some more recent posts here. 
In March 2009, Darren and I were planning the launch of ThoughtFarmer 3.5 and a new web site. We had previously marketed ThoughtFarmer as "intranet 2.0", a "wiki intranet", and as "social software". But none of those terms felt like they captured the essence of ThoughtFarmer.
Jive had come out with their "social business" positioning. We were looking at their web site, when one of us cried (I can't remember who), "Social Intranet! That's what we are!" And in May 2009, we launched our new web site proclaiming ThoughtFarmer as Social Intranet Software.
That's the first use of the term I had seen. But I've been stoked over the last few months to see the term co-opted by many intranet consultants and competitors:
On Google Insights, we see that "social intranet" only began appearing on the radar in 2010 (the spike at "A" is the Social Intranet Summit):
If you like this blog, you'll love our newsletter
From workbooks and whitepapers, to blog content and best practices, our monthly newsletter is full of great content, advice, and expert insight.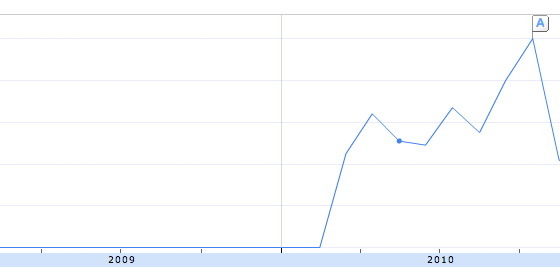 Similarly, our Google Analytics report on visits to thoughtfarmer.com from the term "social intranet" shows steady growth through 2010:

Additionally, our SEO consulting firm Outcome3 tells me that "social intranet" gets about 10% as many searches on Google as "intranet software". For a new term, that's impressive.
And finally, ThoughtFarmer, the original social intranet software solution, saw 86% revenue growth in 2010.
All this is a long way to say: I believe social intranets are poised for phenomenal growth in 2011. Indeed, with few exceptions, every new inquiry we get is from an organization looking for a social intranet, whether or not they refer to it as such. I'm glad we had a part in creating this wave; I intend to ride it.
Have questions? Get in touch! We're always happy to hear from you.