*Update: Whoaaa, this blog post is really old! Check out some more recent posts here. 
This is one in a series of posts from our Real Intranet Manager Interviews where we highlight the creative and thoughtful people behind successful intranets of all types.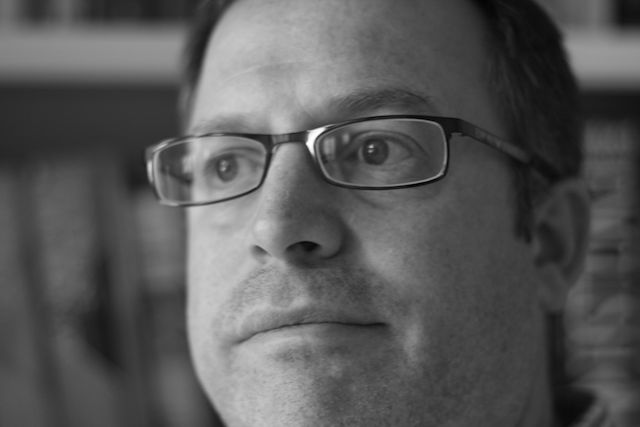 Jonathan at a glance 
Name: Jonathan Phillips
Age: 38
Hometown: Lives in Bristol, Western UK
On Twitter: @DigitalJonathan
Blog: Intranetizen
Company: Coca-Cola Enterprises (CCE)
Headquarters: Atlanta, Georgia
Employees: 13,250
Job title: Senior Manager of Digital Communications
Name of intranet: iConnect, re-launched April 2012
Latest intranet overhauls: April 2012 and September 2008
Technology stack: SharePoint 2010, hosted in the cloud
If you like this blog, you'll love our newsletter
From workbooks and whitepapers, to blog content and best practices, our monthly newsletter is full of great content, advice, and expert insight.
Intranet career started with a simple question 
Like many other intranet managers, Jonathan Phillips is a self-proclaimed "web geek" - he loves the web and technology. He got his start in intranets back in 2002 when a colleague in the e-business department said "hey, what do you think of this intranet stuff?" The rest is history.
Since that precipitous question, Jonathan has held several different positions working on several generations of intranets. Through all of it Jonathan has discovered that just as his intranet career has been a winding journey, so too is the life of a company's intranet.
Jonathan works for Coca-Cola Enterprises (CCE) in the UK as the Senior Manager of Digital Communications. CCE is responsible for the manufacturing, sales and distribution of Coca-Cola products in Great Britain, France, the Benelux countries, Norway and Sweden. Today, the CCE intranet serves over 13,250 employees.
During his 15+ years with CCE, Jonathan has learned that the perfect intranet doesn't exist. Companies restructure and refocus, technologies evolve, and employee needs and expectations change. A great intranet is not the Holy Grail, but more resembles the epic journey and the most critical factor is the quality of your team.
"The intranet must mirror a company's 3-5 year strategy" he told me. For most intranet managers that means shifts in intranet direction every three years or so, which is about par for Jonathan. During his decade of work on the intranet he has seen three major re-launches, and he's encountered just about every intranet challenge one can find.
Revolution and then evolution
Today the CCE intranet has just seen its latest overhaul, launching a SharePoint 2010 site earlier this month. But this most recent launch is part of a longer journey, with a history and a long path forward. "While we had a strong vision for the new intranet, our strategy was not to deliver it all in one big splash. Instead, we committed to a re-launch date, with an updated technology stack and then to follow, a series of improvements in the intranet roadmap. We will deliver the new vision step by step: revolution then evolution."
This incremental approach has proven beneficial for past re-launches. Instead of investing a huge amount of time in one big intranet re-launch, they metered out the enhancements to deliver useful new features and content, aiming to not overload employees with too much change too quickly.
This ongoing intranet development process has also allowed Jonathan to maintain strong relationships with intranet team members throughout the company.
A good team makes a good journey
Both the 2008 and 2012 CCE intranet re-launches were combined with a large technology switch that Jonathan helped lead. Alongside the newest incarnation of the intranet, CCE employees have received new email clients, Microsoft Lync and added new social enterprise capabilities with Salesforce Chatter, all under an awareness and adoption campaign banner called "Get Connected". The massive staggered changeover, combined with the intranet re-launch, has left Jonathan with a few gray hairs but he credits the strength of his team for the success of the project.
The broad lesson I learned was about surrounding yourself with the right people. We built a strong delivery team for the project that included people from the Public Affairs and Communications, HR, and IT teams. These people were involved in the project from day one. It was a great learning experience because we had strong governance and strong delivery.
Having a strong cross-departmental team in place has helped Jonathan continue to deliver intranet improvements on an ongoing basis. Rather than only being resourced for occasional major launches, CCE's intranet evolves over a long and continuous path, with each major milestone bringing new features, new uses and new experiences for employees.
Integrating Communication, Collaboration and Transactions
With the latest stage of evolution, Jonathan and his team have created a truly integrated experience that strikes a balance between James Robertson's four purposes of an intranet.
One of the most important developments in the latest intranet launch is the integration of communication, collaboration and transactional tools into the new homepage. By bringing them all to within easy reach, Jonathan believes that employees and the business get the best of the limited homepage real estate.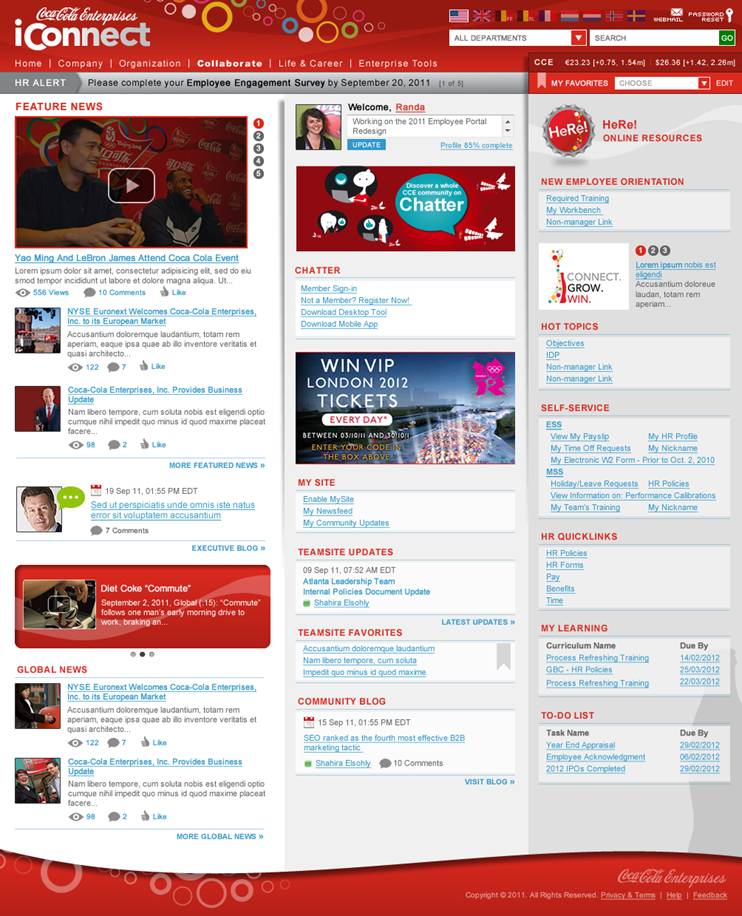 It's about the cross-fertilization of traffic", says Jonathan. "If an employee comes only to read his recent pay slip, he will now see the latest internal news, or CEO blog – they're all on the same page." In this way, each department benefits from each other's traffic and the employee gets easy, quick access to key information and tools.
The new CCE intranet, iConnect, is a place of action and information combined.
Holy team, not holy grail
The latest and greatest version of the CCE intranet sounds extremely useful and is light years ahead of where many intranets are. But you can bet that Jonathan and his team aren't about to rest on their laurels. Many more projects, phases and improvements await as he and his team pursue a stronger and stronger intranet.
While the perfect intranet seems like a Holy Grail to be found and then victoriously hung on the wall, Jonathan Phillips has discovered that a good intranet is a journey rather than a destination. And like any other journey, the difference between success and failure is the team you surround yourself with.
Jonathan carries an exciting vision for CCE's intranet and sees useful opportunities for social and mobile intranet tools, but his first and foremost focus is involving the right people in intranet planning. Get the right people together and rowing in the same direction and you're bound to have a successful intranet journey.
Have questions? Get in touch! We're always happy to hear from you.