\When Cummins Western Canada (CWC) wanted to increase employee engagement, share knowledge and encourage adoption of their new intranet, they chose a surprisingly simple but effective method—tell stories!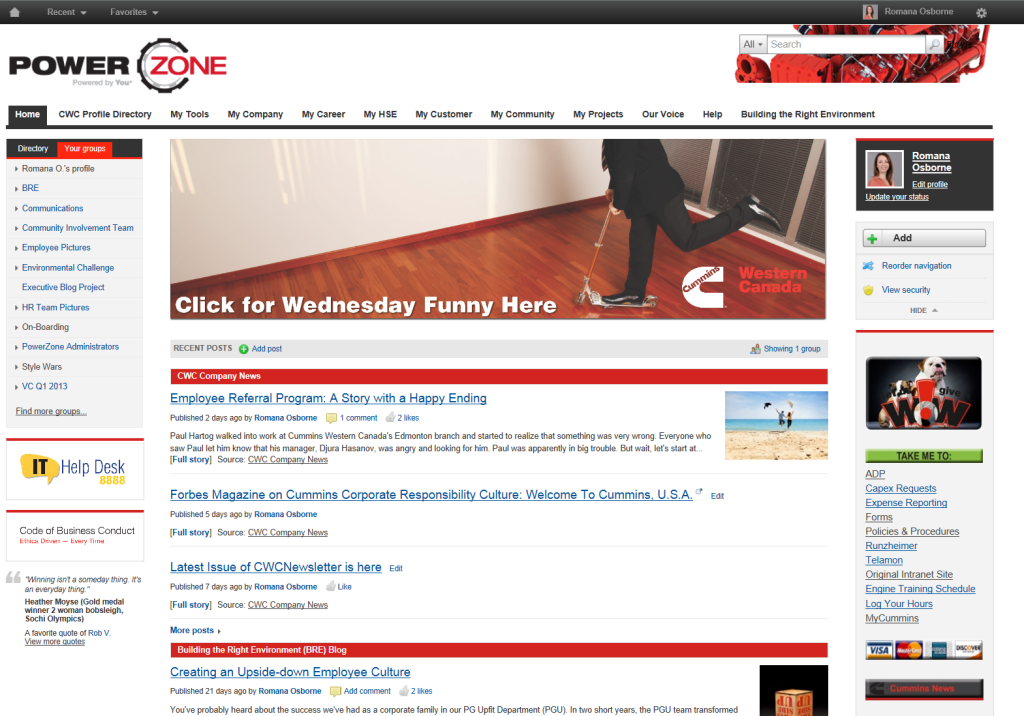 The Challenge
CWC has more than 800 employees and locations across several provinces. They needed a way to connect employees and share knowledge that would be accessible to users at all levels of the business, from head office to shop floors. When it came time to purchase a new intranet, Cummins had prepared a thoughtful strategy, but had a limited budget and tight timeline. Their Communications team turned to ThoughtFarmer, which out-of-the-box was far more affordable than the custom-built SharePoint implementation they had been considering.
If you like this blog, you'll love our newsletter
From workbooks and whitepapers, to blog content and best practices, our monthly newsletter is full of great content, advice, and expert insight.
The Results
Cummins' ThoughtFarmer intranet was a hit "right off the bat," according to Romana Osborne who manages the intranet and worked with our consultants during the implementation. Cummins had a full engagement with our Professional Services team, who helped guide them through the steps from purchase to launch. "I thought the ThoughtFarmer team was great!" she said.
Cummins' intranet has become a go-to resource for the business. 70% of employees log in daily to ThoughtFarmer, compared with 29% for the old system it replaced. Employees regularly submit content for blogs and news posts and stories receive dozens of comments. "People are using ThoughtFarmer to do their job," Osborne says.
Have questions? Get in touch! We're always happy to hear from you.