Last week, James Robertson at Step Two Designs announced the 2009 Intranet Innovation Awards. Participating judges included intranet experts Catherine Grenfell, Martin White (Intranet Focus), Jane McConnell (NetStrategy/JMC), and Alex Manchester.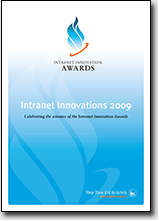 We're pleased to see IDEO's The Tube on the list, receiving a Gold Award for its "stylised, innovative online space designed purely around IDEO employees." ThoughtFarmer powers the Tube's collaborative workspace and has allowed for IDEO's global employees to create over 16,000 pages in the 2 years since launch.
They've done a great job at extending collaboration beyond the intranet at IDEO too — tying in large screen displays in their offices to status updates on the intranet, for example:
Gentry Underwood, IDEO's lead for Knowledging Sharing, recently wrote about social interaction design on Core 77 and spoke to conference goers at Enterprise 2.0 in San Francisco on what makes IDEO's approach to collaboration so powerful. For those that missed it, you can scan through Gentry's auto-tweeted summary of his presentation on Twitter (as well as read how to tweet and present at the same time).
We're honoured to have played a part in IDEO's collaborative successes and have immensely enjoyed our work with Gentry, Doug and the team in Palo Alto.