*Update: Whoaaa, this blog post is really old! Check out some more recent posts here. 
I love DropBox. I use it all the time in my personal life. But IT Directors everywhere have mixed feelings about such tools and are struggling to keep their companies' files safe.
When internal tools don't meet their needs, employees often look to consumer tools like DropBox to share files. An old SharePoint site that can't be accessed on a mobile device? A clunky document management application that's too process-heavy? These problems lead employees to stray from company systems.
But with ThoughtFarmer 6.0's document management features, IT Directors and employees can both be happy.
If you like this blog, you'll love our newsletter
From workbooks and whitepapers, to blog content and best practices, our monthly newsletter is full of great content, advice, and expert insight.
A central location for file management
First off, you can store files centrally on the intranet and manage file access so just the right people can see and edit specific documents. This means employees can access files in the same place they go to get their news and find HR tools.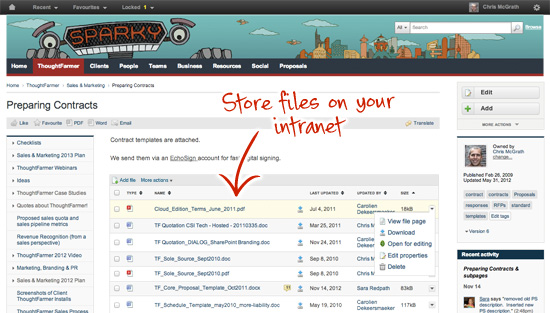 Manage large collections of files
New document libraries allow easy management of large collections of documents. You can quickly move, duplicate, reorder, and rename files with just a few clicks.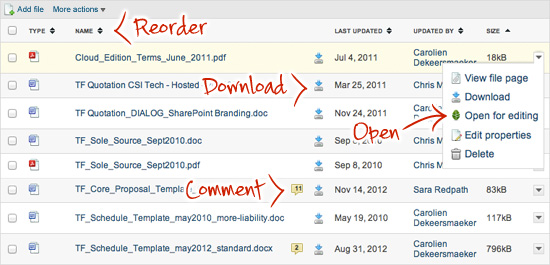 Drag-and-drop file uploading is a breeze
Drag-and-drop uploading means that managing large collections of files is easier than ever.
Edit files directly from the intranet
And with ThoughtFarmer's direct file editing, you can open files — Word, Excel, PowerPoint, Keynote — straight from the intranet. The file automatically locks so no one can overwrite your changes, and then it automatically opens in your desktop application. Save your changes, click "Done Editing", and the latest version is saved back to the intranet.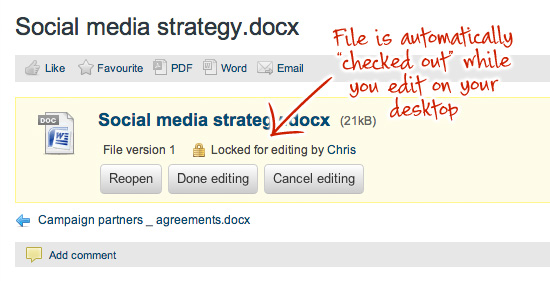 Full version histories & revision control
If you've ever used DropBox or any other shared folders, you know the frustration of opening a file only to discover massive changes. It's the worst when someone edits your file without saving the old version so you have no way to retrieve your work.
With ThoughtFarmer not only do you have a complete version history for each file (as well as every page), but you can easily revert back to any previous version.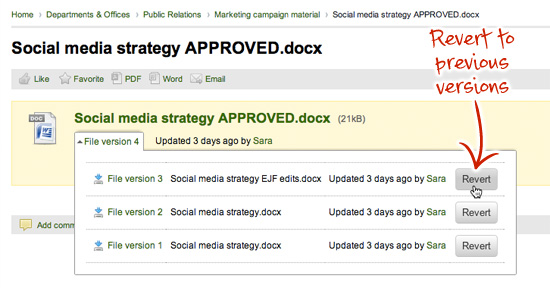 Collaborate on and discuss documents on the intranet
To round out your document management features in ThoughtFarmer we have on-page comments. You and colleagues can have an online discussion about a file on the file page and each comment will note the file version about which it was made.
Intranet discussions plus our new document preview features mean you can collaborate on files in ways shared folders have never allowed.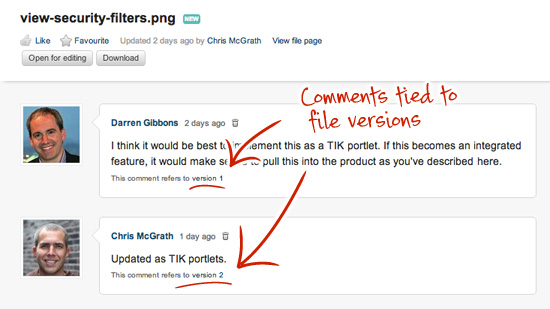 View files on your mobile phone
The icing on the cake? You can find, download, and read the files on a mobile device via ThoughtFarmer's mobile web app.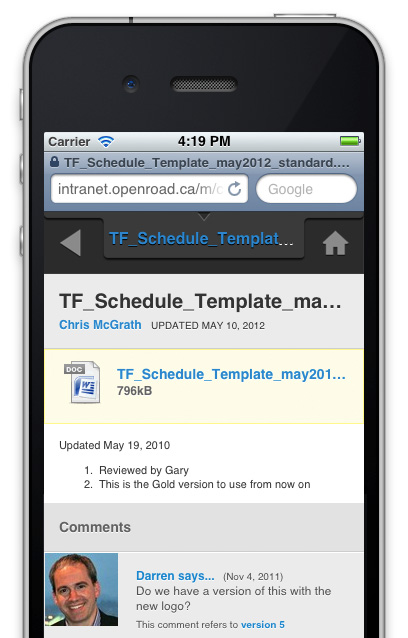 ThoughtFarmer's new document management features make document collaboration simple and seamless. IT Directors will sleep easy knowing employees aren't using DropBox to store confidential documents, and employees will have the tools they need to collaborate better.
Have questions? Get in touch! We're always happy to hear from you.