*Update: Whoaaa, this blog post is really old! Check out some more recent posts here. 
This interview is part two of our Future of Work four part series.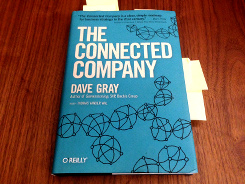 Dave Gray, author of The Connected Company, says that the plummeting cost of technology means that consumers and employees are able to adapt to change far faster than companies. These technologies allow consumers and employees to self-organize, forming their own networks and disseminating information at lightning speeds.
For organizations, this can either spell disaster or create massive opportunity, depending on how they react. In this 20-minute interview, Dave Gray shares how the Connected Company model can help organizations adapt to and even leverage these new types of networks.
Dave Gray is one of four interviewees in our Future of Work series. Stay tuned for two upcoming interviews on the Future of Work.
Have questions? Get in touch! We're always happy to hear from you.